UPDATE: AG Bondi's Presentation Adds More Facts and Raises More Questions
If the Trump administration and the US Department of Justice wants to conduct a meaningful inquiry into the circumstances surrounding Burisma, Joe and Hunter Biden and the loss of billions of dollars associated with the failure of Privat Bank and aid to Ukraine, it must subpoena the records of Boise Schiller concerning Hunter Biden, Zlochevsky, and Burisma, and it must subpoena the IMF records concerning Burisma, PrivatBank and Kolomoisky. If the Senate ends up being dragged into this investigation, it will have to do the same as the only real question that exists that matters is whether Trump was correct to be concerned about corruption in Joe and Hunter Biden's dealings with Burisma and Ukraine.
This an update to our lengthy piece from last week on Hunter Biden's potential conflicts of interest and ethical/moral issues he faced during his board tenure. In this fast-paced story, more evidence has come to light about the connection between Bursima to Ihor Kolomoisky and his theft of 5.5 billion from PrivatBank, and a conflict of interest for Hunter concerning his employment at Boise Schiller. Let's jump in:
Donald Trump's defense lawyer and former Florida Attorney General Pam Bondi made a presentation during the Senate trial where she made the case showing it was reasonable for the President to raise the issue of investigating Hunter Biden's role at Burisma with the Ukrainian President Zelensky. Ms. Bondi did not address everything our original blog below addressed, but we are adding her new information to our blog to paint a more damning position for Hunter's role as a board member at Burisma. We have no personal animosity toward Hunter. Our company acts as a watchdog (WatchdogResearch.com) on proper board governance, transparency, risks and disclosures. Our focus remains on Hunter's failures in those areas.
We have already argued that Hunter's role was not really to serve as an independent director. It is far more likely that Zlochevsky brought him on so the Biden name would provide a firewall, preventing the Ukranian government from seizing the energy company either as a wartime measure, or as a way of rewarding those loyal to the new regime. There remains a great deal of confusion as to what role he actually played at the company. Burisma initially reported on May 12, 2014, that he would be in charge of the legal unit. But as Ms. Bondi's presentation showed, Hunter told the NY Times that he never served in that capacity and Hunter's lawyer issued a statement denying it. Hunter undoubtedly denied this claim because serving as an executive head of the "legal unit" would be antithetical to his supposed position as an independent board member.
The Senate Ought to Subpoena Records From the IMF
In our last piece we pointed out that Hunter Biden was on the Board when Ihor Kolomoisky, one of Ukraine's most powerful Oligarchs, purchased 45% of a company believed to be Burisma's subsidiary. Kolomoisky was the owner of PrivatBank, the largest private banks in Ukraine at the time. According to the OCCRP, Kolomoisky also stole $5.5 billion (5% of the Ukraine's GDP) out of PrivatBank in 2016, which lead to the IMF to bail the bank out, and creating an urgent need for loan guarantees from the U.S. Make no mistake, U.S. taxpayers paid for this bailout. Kolomoisky allegedly stashed and laundered this money through other entities that he owned at the time. It is possible that some of this money went through his newly owned interest in Burisma or its subsidiaries.
PrivatBank was implicated in a money laundering scheme in 2014 where it allegedly laundered over $2 billion from Russia and brought it into Europe. PrivatBank's reported purchase of a subsidiary of Burisma has all the hallmarks of a money laundering scheme, especially considering Zlochevsky had just had $23 million frozen by the British fraud office.
We have previously discussed how Hunter was paid 12X the typical salary for an independent board member at a small private company. But Ms. Bondi helped us see which bank was handling Burisma's payments: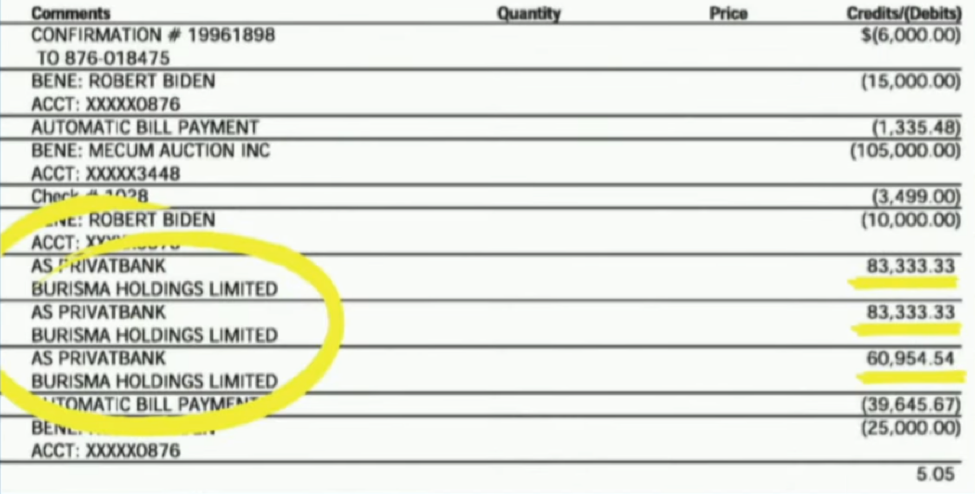 It is clear that Burisma held its accounts at PrivatBank, showing another link between the two companies and the two Oligarchs, Zlochevsky and Kolomoisky. Why is this connection relevant to impeachment? It has been widely reported Joe Biden insistence that Shokin be fired had nothing to do with Burisma and that he was fired because of his failure to investigate the massive theft of IMF money by Kolomoisky. That version of the story doesn't hold much water when Kolomoisky is potentially closely affiliated with Burisma and may have used it as a vehicle to launder money.
One more point about Kolomoisky. He is closely tied to President Zelensky. Although Kolomoisky seems more like his patron, Zelensky said in an interview "He is my business partner, not my boss." Zelensky's statement is not very reassuring. Is it so surprising that Trump was hesitant to send more money to the Ukraine? In that interview, Zelensky was all but admitting that he was receiving money from Kolomoisky, and if you read the article it is clear that he received significant assistance in the form of free advertising and promotion from Kolomoisky's television station. Wasn't it reasonable for Trump to be hesitant about sending US aid to an administration potentially beholden to an Oligarch accused by the IMF of massive fraud, one who already have been implicated in laundering Russian money through its Lativian subsidiary of PrivatBank?
The case for impeachment relies on the idea that no reasonable person could have believed that there was corruption going on with Burisma and the Bidens. The Democrats have called the notion "absurd." In reality, the case that there was corruption at Burisma is unassailable, and it is also indisputable that Hunter Biden's position on the board may implicate him in attempts to hide potential corruption.
Money is fungible, and it is difficult to know exactly where all the money flowed. But it is certainly worth investigating, and if the Senate wants to quickly get to the bottom of it, it needs to subpoena every IMF record on Kolomoisky, Zlochevsky, PrivatBank, and Burisma and its subsidiaries. Those records will show whether there was a legitimate reason to investigate Burisma.
The Senate Ought to Subpoena Records from Boise Schiller
Bosie Schiller has been associated with the Biden family for at least a decade, and represented them before Hunter worked for Boise. In our last piece, we discussed the potential for a conflict of interest between Hunter Biden active role on the board of Burisma and his continued role at Boise. The reporting of John Solomon has demonstrated that this conflict was not simply potential, but that it happened. Hunter was announced as a board member in May of 2014 after being asked to join in April. Prior to that, Hunter had been working for Burisma on behalf of his firm Boise Schiller Flexner.
According to Hunter's attorney, "Burisma agreed to pay the legal expenses of Boies Schiller to support Hunter in developing corporate reform initiatives." Records show that Boise billed Burisma $250,000 for a retainer in May 2014, and then an additional $33,000 in September when that presumably did not cover all of Hunter's expenses.
It's not the big legal fees that raise eyebrows, even though it seems Hunter subbed out most of the work to Nardello & Co. which was paid about $55,000 for its work. It is the fact that Burisma started paying Hunter's investment firm in April, around the time that it asked Hunter to join the board as an independent director. Burisma then paid Hunter $83,000 a month ($1 million/year) to serve as an independent board member starting in May, the same month it gave Boise a $250,000 retainer for the work being done by Hunter Biden on behalf of Boise. If these records are accurate then Hunter was double dipping, at least initially, as both a consultant and as an "independent" board director which is a glaring conflict of interest.
Boise Schiller is at risk here too; they allowed this unethical behavior by one of their attorneys. There is a cauldron of conflicts here for Boise Schiller as they had to consider the implications for Burisma, Zlochevsky, Hunter Biden, the Biden family, and any duties of loyalty that may have come with government contracts or legal obligations to report ongoing crimes.
Boise is one of the world's most powerful firms, with some of the brightest and most astute lawyers. There is certainly an extensive file on Burisma, Hunter Biden, and Zlochevsky, including the reports that they put together. There may even be internal memos about the risks posed to the firm for this conflict. There were certainly internal discussions after it was widely reported. The Senate must subpoena all of the documents related to Zlochevsky, Burisma, Hunter Biden, and any other related documents.
Conclusion
There is of course more to this story. Like the fact that Devon Archer failed to serve his full five year term and quietly left the board after he became implicated in an unrelated but massive Ponzi scheme. Or the fact that the other well-connected Board member, the former president of Poland, Aleksander Kwasniewski, was connected with the ousted Pro-Russian Regime and Paul Manafort.
It would be understandable for the Senators to dismiss the impeachment against President Trump without going any further, but if they want to get to the truth, then any roadmap should start with subpoenaing Boise and the IMF.
Our original post is below…
"But Burisma's owner, Mykola Zlochevsky, has been under investigation in Britain and in Ukraine. It should be plain to Hunter Biden that any connection with a Ukrainian oligarch damages his father's efforts to help Ukraine. This is not a board he should be sitting on." New York Times Op Ed, December 12, 2015
"… if President Trump honestly believed that there was a corrupt arrangement with Hunter Biden that was not fully investigated by the Obama Administration, the request for an investigation is not corrupt, notwithstanding its inappropriateness. The Hunter Biden contract has been widely criticized as raw influence peddling. I have joined in that criticism. For many years, I have written about the common practice of companies and lobbyists attempting to curry favor with executive branch officials and members of Congress by giving windfall contracts or jobs to their children. This is a classic example of that corrupt practice." Jonathan Turley, Esq. Testimony before House Judiciary Committee December 5, 2019
At Watchdog Research, we publish reports and blogs focused on publicly traded company transparency, honest and full public disclosures and gray swan events. Professional investors and D&O insurance industry executives pay to subscribe to our reports because we expose the hidden risks and troubling issues that often cause a stock to lose value. As a public service, we do offer our reports to individual investors for free from our website. Our reports cover 6,500+ public companies, mostly in the USA.
Occasionally, such as with this blog, we have the opportunity to apply our insights and skills to other situations that need a healthy dose of transparency and our rock-solid analysis. We have been watching the developments in the impeachment of Donald Trump with great interest. The articles of impeachment have been delivered to the Senate and a full trial in the Senate is imminent. There has been talk that John Bolton, or even Joe Biden may participate as witnesses, but the most consequential witness that we have not heard from is Hunter Biden. President Trump's discussion with the President of Ukraine regarding Hunter Biden's role as an independent board member of Burisma is the key issue to the impeachment case.
We have already written a report on Hunter Biden's unusually high compensation for his position at Burisma, which is a topic he would probably rather avoid. Our team has investigated Hunter Biden's tenure at Burisma and found nine specific days in Hunter's tenure at Burisma that might either prove he was an active, appropriate board member or he was instead a passive board member paid a whopping sum because he had a unique last name.
One reason why it is crucial that the Senate get comprehensive answers from Hunter about Burisma and these nine days is because the Russians just hacked Burisma. The most effective way to prevent the Russians from interfering with the election by spreading potentially false damaging information about Hunter's time at Burisma, is for Hunter to immediately disclose all his relevant documents from Burisma and provide complete and comprehensive testimony. For instance, how did Hunter act during the nine days we discuss below? Did he fulfill his professional board-level responsibilities or did he simply rubber-stamp everything and allow Burisma to operate with little input or oversight? The answer will prove whether Donald Trump's instincts were right or wrong to raise the issue of Hunter Biden with the president of Ukraine.
One of the reasons why we have taken such a keen interest in Hunter's time at Burisma is because it gives us the chance to apply principles of good governance to a real-life example (actually Hunter's story is less real life and more HBO movie). There is much that can be learned from Hunter Biden's misfortune. And if you serve on a foreign board and your days start looking as bad as Hunter Biden's, we would strongly recommend taking your career in another direction.
Day One - The Day the NY Times Demanded Hunter Biden's Resignation
Warren Buffet famously admonishes his operating executives to apply "the newspaper test" to their actions:
"I ask the managers to judge every action they take — not just by legal standards, though obviously that's the first test — but also by what I call the 'newspaper test.' If a manager expresses uncertainty, I ask them how they would feel about any given action if they know it was to be written up the next day in their local newspaper by a smart but pretty unfriendly reporter."
It's a good test and one Hunter could apply on December 12, 2015, when the NY Times ran an editorial entitled "Joe Biden Lectures Ukraine.". It is worth quoting the relevant portion on Hunter Biden here:
"Sadly, the credibility of Mr. Biden's message may be undermined by the association of his son with a Ukrainian natural-gas company, Burisma Holdings, which is owned by a former government official suspected of corrupt practices. A spokesman for the son, Hunter Biden, argues that he joined the board of Burisma to strengthen its corporate governance. That may be so. But Burisma's owner, Mykola Zlochevsky, has been under investigation in Britain and in Ukraine. It should be plain to Hunter Biden that any connection with a Ukrainian oligarch damages his father's efforts to help Ukraine. This is not a board he should be sitting on."
When you hail from a staunchly democrat-party family, and your father serves as VP of the United States and the NY Times (one of your biggest press advocates dares to call for your resignation, you should probably listen. Imagine the discussions taking place on that day in the Biden, Obama and Kerry households, not to mention just about all of Ukraine, Russia, China, US intelligence agencies, State department, Attorney General's office, Congress, and a host of other political, personal and readers of the NY Times. How could any son of a VP be so belligerent, obtuse or desperate as to not resign immediately? Was receiving more than a million dollars a year for virtually no-show job, being paid by a pro-Russian, on-the-lam Ukrainian Oligarch worth it? In our opinion, this had to be the worst of nine days in the life of Hunter Biden and Burisma.
Day Two -The Day Hunter Discovered of a UK Investigation into Burisma's owner Mykola Zlochevsky:
On April 28, 2014, most likely right after Hunter joined the board, the UK's Serious Fraud Office announced it was launching a criminal investigation into possible money laundering undertaken by Burisma's owner Mykola Zlochevsky. The UK Guardian wrote an in-depth review of the case here. Ultimately the case fell apart because of corruption in the Ukranian prosecutor's office (someone there wrote to the UK court saying that Zlovchevsky was not under investigation, a bald lie which was probably the result of a bribe).
However, the launching of the investigation, mere days after he joined the board should have been a red flag for Hunter Biden that should have led to his initiating an internal board investigation into potential claims of misuse of funds by Zlochevsky or any of his staff who reported to him. At a minimum Hunter should have demanded Burisma hire an independent, well-regarded law firm to do a review of the case to advise the board on actions it should take. Hunter should also have insisted Zlochevsky cooperate fully with the UK in their efforts. Any resistance by Zlochevsky in this regard should have led to Hunter to 'resign loudly.'
Day Three - The Day Hunter Learned Burisma's Owner Was a Fugitive of the Ukrainian Government:
Sometime after October of 2014, Hunter Biden learned that Zlochevsky, Burisma's owner, was a fugitive wanted by the Ukrainian government. Although it was not until January 16, 2015, approximately nine months after Hunter Biden joined the Burisma board, that the government of Ukraine publicly announced Zlochevsky's fugitive status. Zlovchevsky was under investigation for (amongst other things) of using his previous position as Ecology Minister to grant Burisma and its subsidiaries valuable licenses to extract oil and gas that were not granted to competitors. He also had been considered a lackey for Yanukovitch, Putin's puppet and the former president of Ukraine whose ouster had started the ongoing war with Russia.
A point for context. Hunter Biden's role as an independent board member required him to act as a fiduciary for Burisma. This means he owed the company a duty to act diligently, loyally, and in good faith to advance the interests of the company. What is in the best interest of the owner is not always what is in the best interests of the company, and we can find no clearer example of that than here in the case of Burisma. With Zlovchevsky on the lam, it was the responsibility of the Board to come clean with the government of Ukraine and restore Burisma. However, Hunter was not truly able to do any of this, especially since Zlovchevsky remained the sole owner and his people remained in charge. Since Hunter could not have discharged his duties as an independent board member, he should have resigned.
Our team struggled to justify Hunter's decision to stay on the board. At best, we concluded that Hunter Biden might have stayed IF he had taken steps to approach the Ukrainian government (and given notice to his father and appropriate US security interests) to place Burisma into receivership or something like it. Receivership is an equitable remedy where a court appoints an independent guardian or trustee to oversee the company's operations. Having a court or government take over a company in such turmoil is not unusual. It happens fairly often in the US through banking and insurance company regulators. Mostly these government takeovers occur to protect creditors in bankruptcy, but it can be used in other extraordinary circumstances, such as during war-time, which we would argue apply here.
If Hunter or other board members had taken such steps to put Burisma into receivership or remove themselves from the board or had engaged an outside regulator or appointed receiver, these high-paid board members would almost certainly have lost their lucrative board seats and ongoing cash payments. As farfetched as it may sound, given the wild-west nature of Ukraine at the time, they may even have faced threats of bodily harm. Is it reasonable to believe that after joining the board of Burisma that Hunter stayed on because he felt like he had no choice? It's doubtful, since Hunter never visited Ukraine, and may even have been entitled to Sercret Service proteciton. We must also not forget that during his board years he was facing extraordinary expenses in the US from a divorce, drug addiction issues, and other expensive personal challenges. It seems likely that Hunter's primary reason for remaining on the board was for the money.
Day Four - The Day Burisma made an Large Sale of Operating Subsidiary Assets to Another Corrupt Ukrainian Oligarch Kolomoisky:
The Kyiv Post ran a story, noting that in July 2014 Burisma's owner, Zlochevsky, sold up to a 45% equity share in at least one of Burisma's subsidiaries (not Burisma itself) to the Ukrainian oligarch Ihor Kolomoisky, a reputed billionaire whom at that time owned the largest bank in Ukraine (PrivatBank). It is not known how much the sale generated for Burisma (vs. directly for Zlochevsky). It is also not known whether the funds to purchase the 45% interest came from Kolomosky himself or from PrivatBank. However, we do know both Kolomoisky and Zlochevsky would later flee the country.
As mentioned, Kolomoisky controlled the Ukrainian bank PrivatBank. PrivatBank, later nationalized by Ukraine, was the vehicle through which as much as $5.5 billion of IMF money was stolen. As reported by the OCCRP, "The central mechanism in the scheme was a series of insider loans to companies Kolomoisky and [his partner] controlled."  Considering that Kolominisky held a considerable stake in Burisma's subsidiaries, Hunter and the board would have needed to investigate to ensure that none of the stolen money was being hidden in Burisma through its subsidiaries.
Follow the money is often quoted in any fraud case. Given that the US is the primary provider of capital to the IMF, it would be wise for Joe Biden use his influence to force the IMF to follow the money from the IMF to Kolomoisky. From there it could have gone to Burisma through its subsidiaries, and then to Zlovchevsky. If it had gone to Zlovchevsky and Burisma, then by association some could have benefited Hunter Biden, Devon Archer and the former President of Poland Aleksander Kwasniewski who were paid excessively high as board members. At the time, Hunter Biden should have forced Burisma to trace funds going in and out of Burisma, and those going in and out of the hands of Zlovchevsky.
Returning to the Burisma equity sale to Kolomoisky: this sale reportedly occurred in the summer of 2014, after Hunter had joined the board. The board of directors would have needed to be intimately involved in a decision of this import, and Hunter should have received documentation and an opportunity to vote on it. At a minimum, Hunter Biden should have insisted on proper valuation of the subsidiary interests and demanded a thorough legal review of the transaction. This legal review should have investigated the buyer, and if it was Ihor Kolomoisky, or any of the Ukrainian oligarchs who had by then been named in corrupt practices cases, Hunter should have interceded to stop any further sale discussions and told other board members it would be appropriate to invite US or IMF regulators to weigh-in on their concerns about Kolomoisky. He definitely should have discussed this with his father, and Secretary of State Kerry. This sale has all the hallmarks of a seriously corrupt transaction. And as Hunter stated in his recent television interview, he understood that he had been asked to sit on the board because his name was Biden. This should have translated into a two-way street, as Burisma should have expected Hunter to be regularly discussing key Burisma and US and Ukrainian national security issues with his father.
Day Five - The Day Ukraine's Top Prosecutor was Fired
PrivatBank was also a banking vehicle that indirectly processed US aid and/or loan guarantees to Ukraine. The IMF loss of billions (in part guaranteed by the US) was central to the IMF loudly demanding Ukraine fire its lead investigator Shokin, presumably for not investigating Kolomoisky and PrivatBank. Shokin has denied the IMF allegations and countered that the primary reason for his firing was his investigation into Burisma and by extension Hunter Biden.
At least in part because of IMF demands, as is well known, in March 2016 VP Joe Biden subsequently made $1 billion in US funding support for Ukraine contingent on Ukraine firing Shokin. Shokin was then fired and the US funds/guarantees were released. Thus, two years after Hunter joined the board we see evidence of a link between Joe Biden, his son Hunter, Burisma, missing funds, PrivatBank, Kolomoisky, the firing of Shokin and US national security interests.
Regardless of why Shokin was fired, the effect was to chill any ongoing investigations of Burisma and by extension, Zlovchevsky. The subsequent prosecutor dropped the case, even though it was widely known that there was corruption at Burisma.
Day Six - The Day Hunter Learned his Business Partner Devon Archer Was Banned By SEC from Board Memberships:
Hunter's fiduciary duties to the company should not only have created independence from the oligarch Zlovchevsky and his management team, but from the other directors as well. Part of the responsibilities of a board member is to assure the independence of the other directors. Now there was already a potential conflict. As discussed in our previous report, both Hunter Biden and Devon Archer were overpaid compared to their peers. But the former President of Poland Aleksander Kwasniewski also was making a million euro a year. Unsurprisingly, these overpaid members would cause more problems during their tenure.
On May 11, 2016, approximately two years after Hunter joined Burisma's board with Devon Archer, the SEC filed a litigation release stating that it was seeking to bar Devon Archer from serving on any SEC regulated company boards and announcing the Southern District of New York was pursuing criminal charges against Devon Archer. Based upon our experience analyzing SEC cases, it is very likely that word of this investigation into Archer and his cohorts would have first become known to Archer and his business partners Christopher Heinz and Hunter Biden, in at least mid-2015.
There is no need to mince words here: Devon Archer, a long-time associate and friend of Hunter Biden was accused by the SEC of running a $43 million Ponzi scheme. In the history of US fraud cases, Ponzi schemes are considered among the worst financial swindles. And here it happened to Hunter Biden's a friend, business associate, and fellow board member.
At a minimum, Hunter Biden should have demanded Devon Archer's immediate resignation from the Burisma board and requested a full outside counsel review of Devon Archer's SEC complaint to learn of what, if any risk Burisma was exposed to while Devon Archer served on its board. We note that back in the States, Hunter and Devon's other politically connected partner, Chris Heinz, the step-son of ex-US Secretary of State John Kerry, seemed to make the appropriate actions to disassociate himself with Devon Archer (and Hunter Biden) when this news broke. By mid-2015, through his step-son, then Secretary John Kerry and most likely VP Joe Biden would have also become aware of the reputational risks facing Heinz and Hunter Biden through their close relationship with Archer. So in short, Christopher Heinz considered this news to be so disconcerting that he disassociated himself from all business matters, likely taking a significant financial loss in the action. Hunter continued his financial and reputational relationship with Archer, a move that is consistent with his refusing to give up his million dollar board-ship at Burisma.
Day Seven -The Day Hunter Learned One of His Other "Independent" Fellow Board Member Was Connected to Paul Manafort and Manafort's alleged Payoffs and Diversions of Funds Schemes:
On February 24, 2018, another New York Times story ran linking then President Donald Trump's ex-campaign manager Paul Manafort to illegal lobbying work tied to Hunter Biden's Burisma co-board member named Aleksander Kwasniewski. Manafort illegal lobbying had been done on behalf of Putin's puppet Yanukovych, whose removal had sparked the war in Ukraine. Kwasniewski was well known to Hunter Biden. Kwasniewski was the ex-President of Poland and allegedly played an instrumental role in recruiting Hunter to the Burisma board in 2014. We say allegedly because Hunter had already been providing expert advice to Burisma and Zlochevsky through his employment with the Boies law firm. Manafort was subsequently found guilty of the violations for his work with Kwasniewski. Manafort was sentenced to 7.9 years in prison.
When exactly Hunter knew of the connection between Kwasniewski and Manafort is unclear. But he certainly knew after the NY Times article hit. And when that happened, Hunter would immediately understand the intersection of the Trump campaign, his role on Burisma's board, his close links with the Polish ex-president, Manafort and the potential impact his role might have on his father's potential participation in the 2020 campaign. Joe Biden announced his candidacy a year later, April 25, 2019. Here again, our team could find no reasonable alternative for Hunter Biden other than his immediate resignation from Burisma's board. Yet, he did not resign.
Day Eight - The Day Hunter Agreed to Serve in April 2014 – Overlooking a Cauldron of Conflicts:
Before Hunter Biden agreed to serve on the board of Burisma, he was counsel at Boies, Schiller Flexner, LLP, advising Burisma on board practices. This paid professional role demonstrates Hunter Biden presented himself as an expert in proper independent board member actions. As such, Hunter Biden should have been expected to do the following before joining the Burisma board:
Review financial documents, including: Audited financial statements for Burisma; Previous board minutes for the last two years; Reviewing Burisma's equity holders (cap table); Reviewing Burisma's corporate charter, tax practices, subsidiaries and partnerships, along with all legal documents related to those. If any of these documents were withheld from Hunter that would have been a major red-flag leading to his refusal to serve on the board.
Ask for other board member bios and conflicts, including: The names, roles, compensation, external conflicts and all written or oral agreements between Burisma and any existing board members regarding any possible conflicts of interest. Any questionable board members should have been interviewed and their backgrounds reviewed thoroughly for conflicts. Hunter should have insisted on an understanding that he, and all board members, should recuse themselves from any conflicted votes they might take while serving on the board.
Company Legal Review: Hunter should have asked for, and received, a review of legal issues from Burisma's outside counsel before joining the board. This review should have included a three-year review of any Ukrainian regulatory requests made to Burisma and any violations or accusations made against the company.
Conduct a war footing review: Before agreeing to serve, Hunter should have also met with US government entities, including his own father, to discuss the importance of the role of Burisma to Ukraine's war activities with Russia (Recall Russia invaded Ukraine in February 2014) and to uncover any known or suspected corruption at the company. Reuters reported that the owner of Burisma, Zlochevsky, worked as a deputy secretary of Ukraine's National Security and Defense Council from 2012-2014. Russia invaded in February of 2014 and the pro-Russian Ukrainian political leadership, including then Ukraine President Yanukovich, were all deposed after street uprisings in 2014. We note this because it raises serious questions about Zlochevsky's alignment or opposition to US national security interests at the time Hunter joined the board.
To be clear it was certainly an odd choice to ask Hunter Biden to join the Burisma board. He had no oil or gas expertise and no expertise in Ukraine. War had just broken out between Russia and Ukraine and his father was just appointed as the top US diplomat covering Ukraine. There were strong reasons NOT to join. Yet, his joining may not sound as crazy as it first seems. To explain why, we need to briefly discuss the relevancy of Hunter Biden serving on the Amtrak board.
Senator Joe Biden was known as "Senator Amtrak." He rode Amtrak trains to and from work in DC and often shepherded Amtrak spending legislation through Congress. Amtrak was Hunter Biden's only other for-profit board member role. Amtrak board members require approval by Congress and Hunter Biden got that approval in 2006. In other words, it took an act of Congress to approve Hunter working on a board heavily tied to his father's work.
We want to be clear here: We do believe Hunter properly acted as an independent board member for Amtrak. We could find no financial or personal relationship conflicts for him on that board. As such, we believe he acted ethically and appropriately, other than possibly being incompetent in his management and oversight of Amtrak. His compensation at Amtrak was minimal. His relationship with his father, who was NOT on the Amtrak board, actually lent credence to the idea that Hunter would act as an independent watchdog over Amtrak because Hunter could go to his father to leverage benefits solely for Amtrak. Benefits to Amtrak are exactly what an independent board member would seek.
But to paraphrase Sen. Lloyd Benson's quip: Burisma is no Amtrak. None of the favorable Amtrak-board elements existed for Hunter when he served on the Burisma board. Hunter Biden was paid excessively for his Burisma board role. He also seemed to be paid for consulting work which breaks a cardinal rule for independence. There was also the danger that any steps his father took which may have been admirable, but nonetheless aided Burisma directly or indirectly (e.g. the firing of Investigator Shokin discussed later), would be perceived as mostly working to benefit Burisma's owner. The optics of benefiting Zlovchevsky would be damning. He was a known Ukrainian oligarch who had served in the pro-Russian regime that had just been overthrown in Ukraine.
While these elements are negative, we do not automatically subscribe to the belief that Hunter's relationship to his father necessarily precluded his seat on Burisma's board. If Hunter was open and honest with his father, the US State Department and Burisma's owner and other board members regarding his allegiances to US national security interests we can see potential benefits in his placement – but never at one million a year. Any potential benefits we might identify, however, seem to be precluded by Joe Biden's insistence that he and his son never spoke about Hunter's activities and relationship with Burisma and its pro-Russian owner and sympathetic board members. But there could have been benefits.
It is a long-standing business practice to encourage executives to accept cross-board membership as a way to help one company learn from another company. For instance, Disney's CEO Robert Iger sat on the board of Apple for seven years until it became clear that Apple would enter Disney's space. With that as context and the Amtrak precedent, one can understand why the Obama administration may have viewed the Hunter Biden-Burisma board role as a positive.
Regular supplies of natural gas would be a requirement for fighting the war with Russia. The US would obviously like to have a "connected" insider at Burisma rather than be blind to Burisma's operations. From this viewpoint, it makes logical sense that Hunter may have been a benefit to US interests at Burisma. Except, again, his compensation at Burisma was exceedingly high and his Burisma role was far different than Amtrak.
Finally, Boies Schiller Conflicts: Before joining the board, Hunter should have also requested a review about accepting a board role at Burisma, by Boies Schiller's internal compliance officer to identify any and all conflicts of interest that could arise from Hunter's joining the Burisma board while serving as of counsel at Boies. This review may well have required Boies to sever its relationship with either or both Hunter Biden and Burisma.
We believe the potential conflicts and implications from Hunter Biden's role at Burisma and Boies arising are so significant that Boies may have exposed itself to liability from claims arising from an independently operated Burisma.
Day Nine - The Day Hunter Actually Became a Board Member and Receiving His First Monthly $83,000 Check:
John Solomon's timeline shows that Boise was receiving payments for services while Hunter was on the Board, and that Hunter was receiving consulting fees from Burisma while still working for Boise before being announced as a board member. This is a big no-no. Hunter ought to have undertaken efforts to end any conflicted relationship with Boies, Schiller before taking the position. It was a violation of his sole duty of allegiance to Burisma for him to accept payments from, Boies, Schiller during his time on the Burisma board. Likewise, Hunter should have suggested a review of Burisma's outside auditor, specifically requesting the company seek new auditor bids from well-established, international auditing firms like Deloite, Price-Waterhouse, EY or KPMG.
We note that The New Yorker ran a piece claiming Boies, Schiller produced a report within three months of Hunter joining the board of Burisma. The report claimed Boies was "unable to identify any information to date regarding any current government investigation into Zlochevsky or Burisma," and that Burisma was "vulnerable to investigation for financial crimes" or "perceived abuse of power." It would be crucial to understand when Hunter received this report, and what, if anything he did with it or what his part was in preparing it.
Summing It All Up:
Burisma is like a Charles Dickens story, written to expose the worst kinds of crony capitalism, government cronyism, war, corruption, adverse national security interests, political shenanigans and old fashioned human greed.
It is hard to put into words how stunning it has been to review all of the adverse situations that Hunter Biden encountered as a member of the board at Burisma. Undoubtably his tenure will provide the Senate with many avenues for questions.
Since the Russians have hacked Burisma's records it is crucial that Hunter's copies of the records are subpoenaed and any problematic transactions are dragged out into the light of day before they are leaked online in a misinformation campaign.
But perhaps the most pressing question is why did Hunter choose to join and then remain on the Burisma board for so long? What obstacles did his exorbitant salary place in the way of advancing both Ukrainian and US national security interests?
It certainly is true, as we originally pointed out in our first blog, that Hunter Biden was being paid a large amount of money for sitting on the Burisma board. But it seems implausible that the son of one of our current political luminaries, a past VP of the United States and the current top nominee for his party's presidential candidacy, would participate in the sordid world of Burisma solely for financial gain. Unfortunately, we draw a blank on any other way to reasonably justify Hunter's decision.